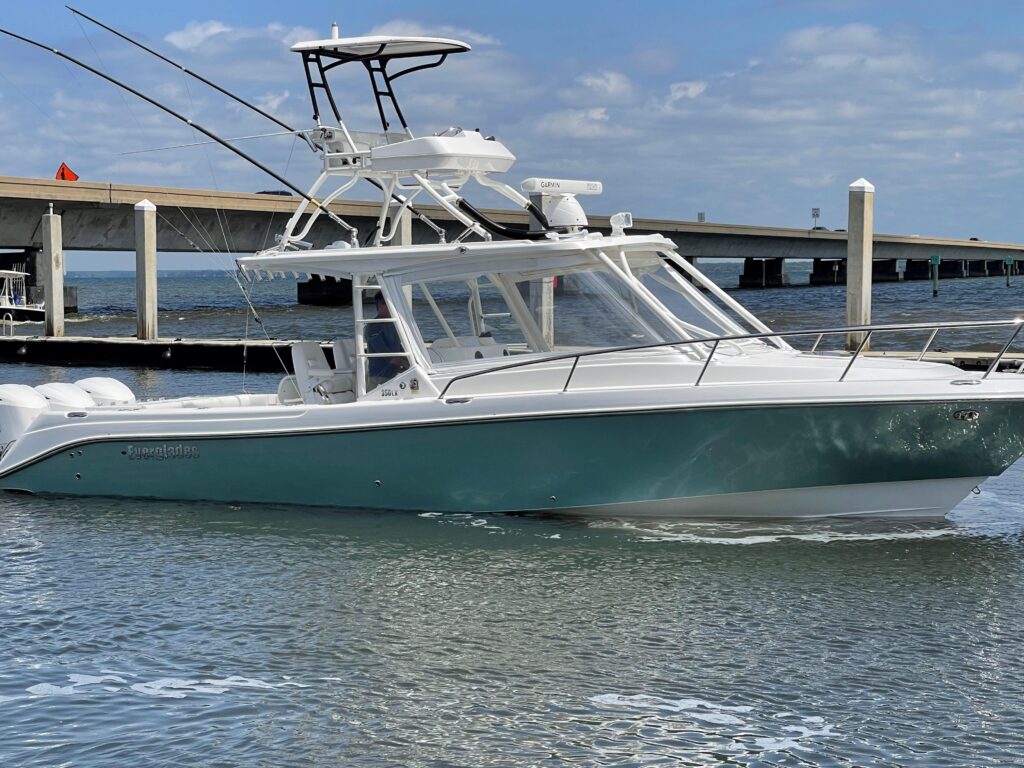 38LX Cabin Cruiser Fishing Packages
The 38LX Cabin Cruiser provides Air conditioning, full kitchen, Grill, Bed, Full bathroom, shower, lounge area, dining table and so much more on a FAST comfortable dry platform.
*Trip prices are per boat, not per person. Hours denote the duration of the trip from departure at the dock to return.
*Maximum of 6 clients for all charter boats, as allowed by Coast Guard law, regardless of boat size.
*Departure times are flexible.
*We offer boat pick-up services from your waterfront home or a nearby marina, subject to a fuel fee.
Planning a corporate event or a large group gathering? You can book multiple boats with us!
---
Offshore trolling, kite fishing, and bottom Reef/wreck fishing 3-20 miles out (Sailfish, tuna, kingfish, wahoo, snapper, grouper, mahi, Marlin, shark and more) Recommend age 13-65.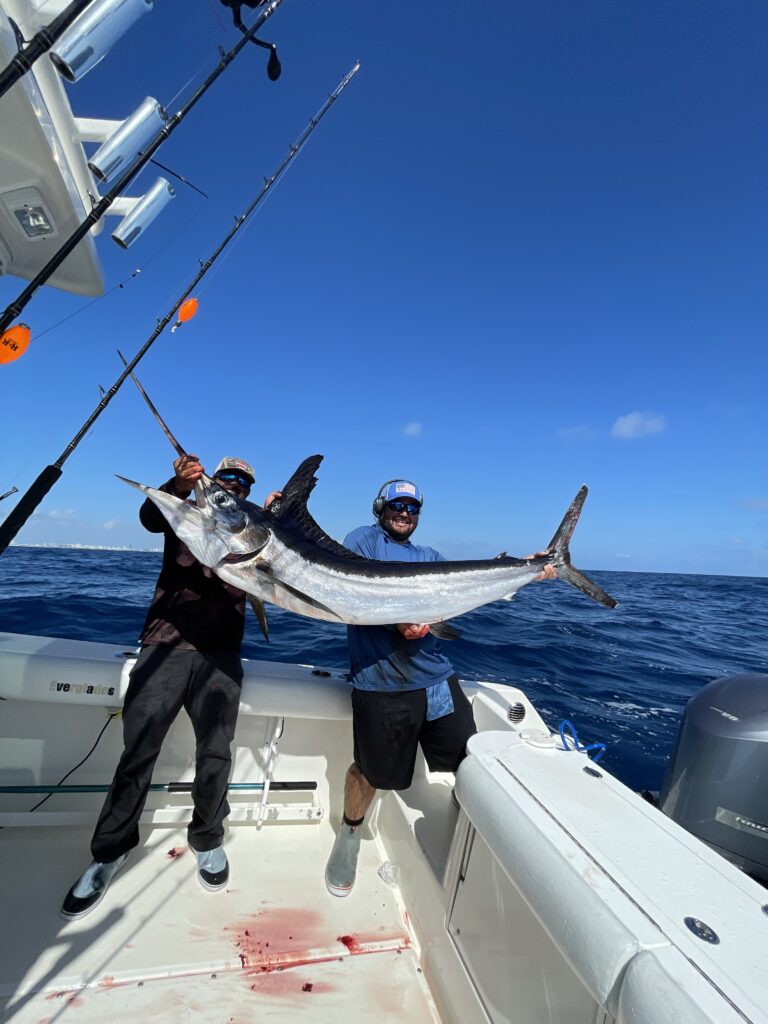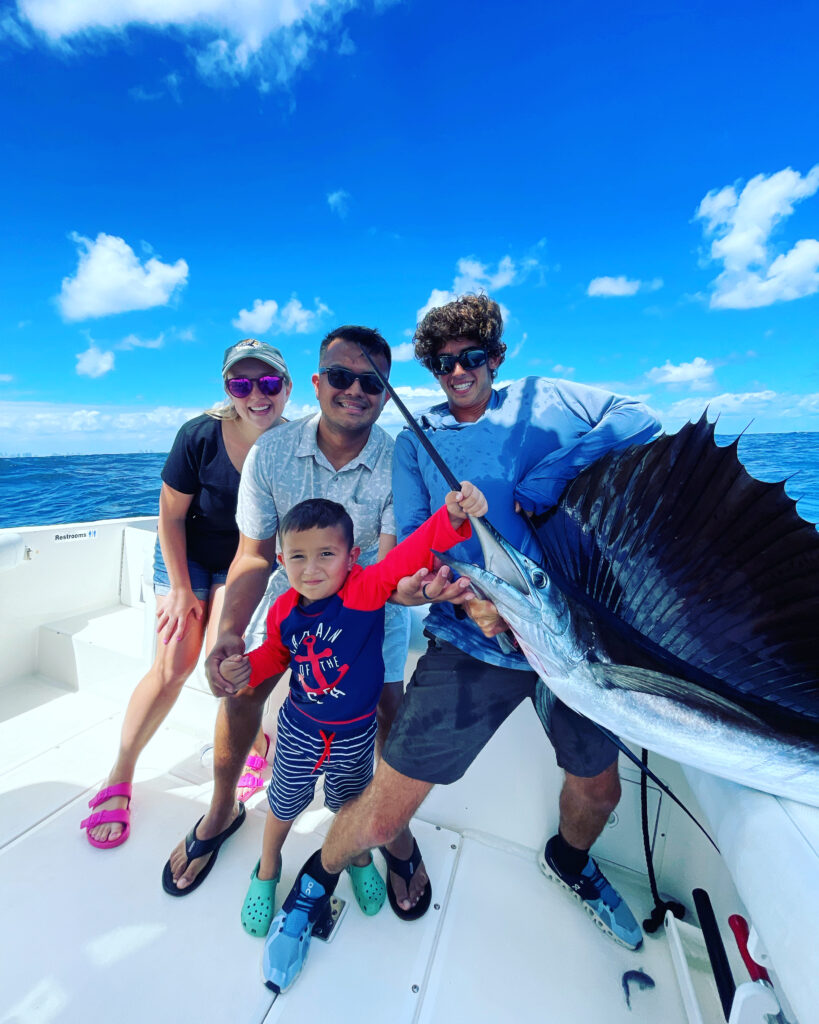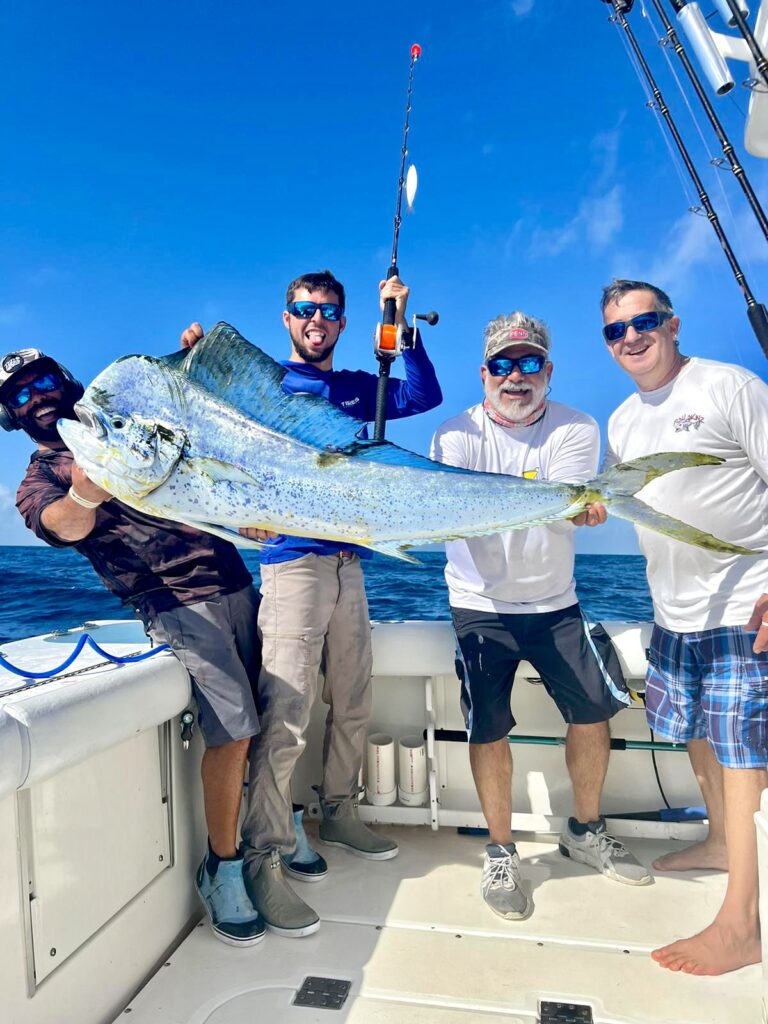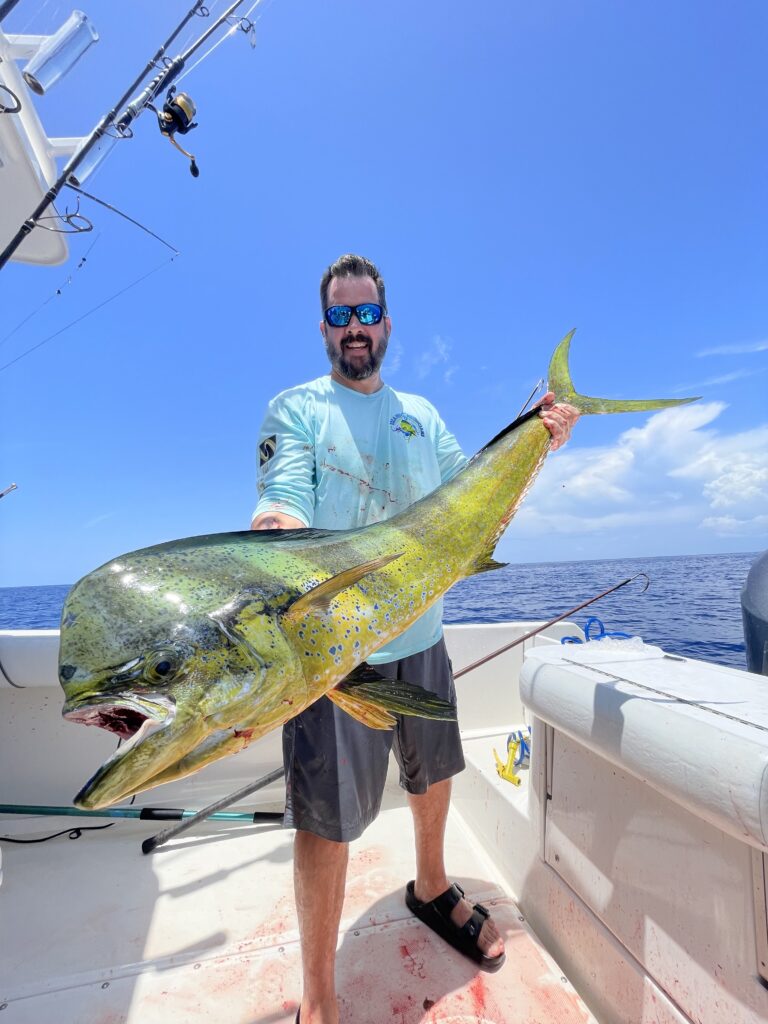 $1200 (4-5 hours) – Enjoy a fishing experience within minutes from the dock, making it a perfect choice for those who are new to fishing, young children, or elderly participants. You won't need to pack much for this quick trip, so keep your cooler contents light and convenient.
$1500 (6-7 hours) – Our most popular trip takes you fishing 3-12 miles offshore, offering up to 60% more fishing time. This extended time allows us to fine-tune our fishing approach and explore different styles. If your goal is to catch summer Mahi offshore, this is the ideal trip for that purpose.
$1900 (8-9 hours) – Typically departing at 7 am, this trip is designed for the truly passionate fisherman who wants to experience various styles of offshore fishing in South Florida. With an extended range of up to 18 miles out and the option to explore Key Largo or North Miami, it's an adventure-packed day. Be sure to pack your lunch, snacks, and drinks to keep you energized, and bring a cooler to store your catch.
$2400 (10-11 hours) – Tournaments and extended full-day trips are ideally suited for experienced fishermen. In tournaments, any winnings, including the Calcutta, are split 60% to the client and 40% to the boat and crew. All entry fees for tournaments are covered by the client.
---
Swordfish 18 miles offshore Day or Night. Recommended age 18-65.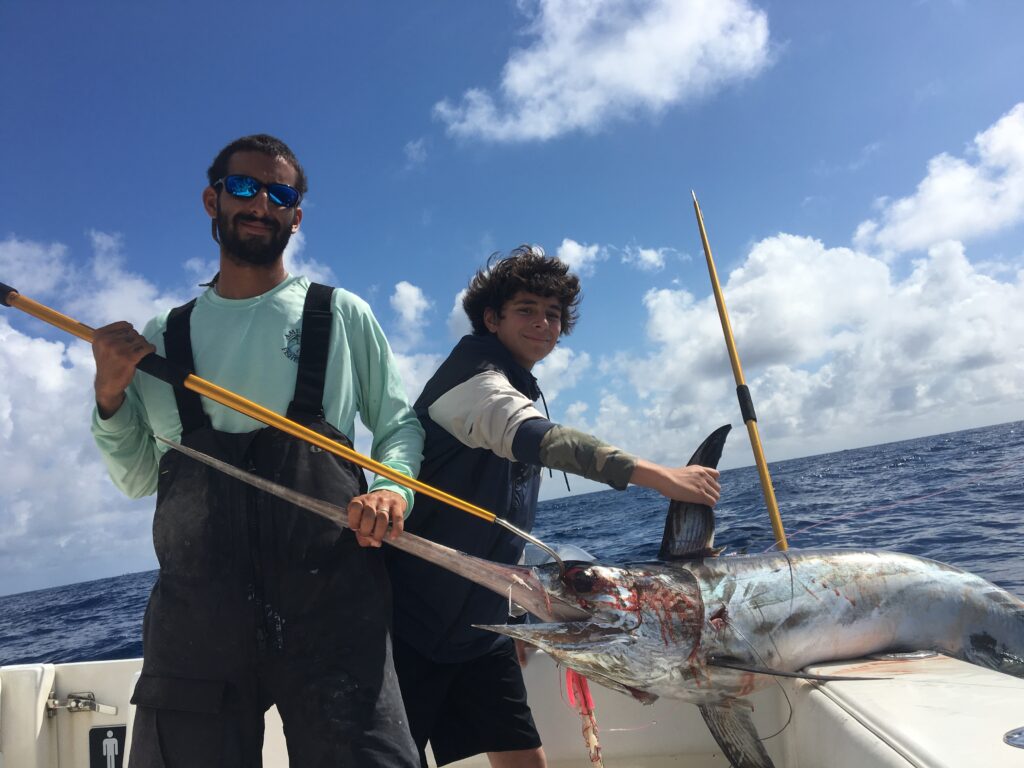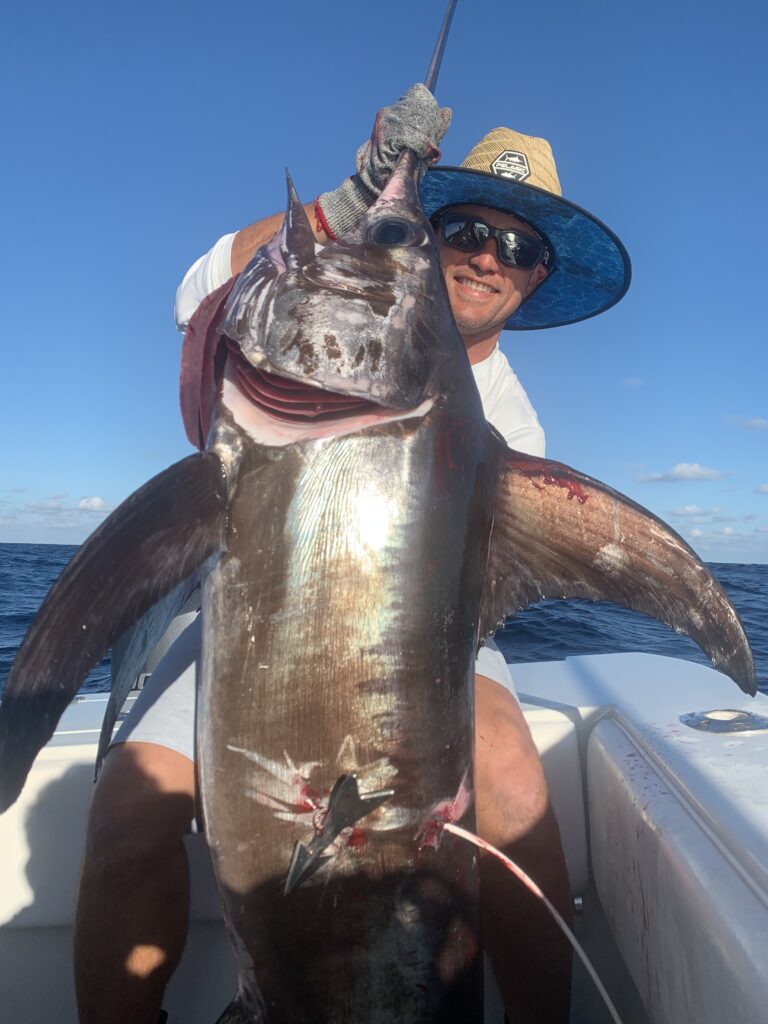 $2400 (8-9 hours) – On this trip, you'll have the opportunity to fish the offshore waters for Swordfish and other offshore species, whether it's during the day or at night. This adventure is best suited for experienced anglers who are looking to achieve their dream catch or stock their freezer. Along the way, you may also encounter Shark, Billfish, Tuna, and Mahi Mahi. Be sure to bring protective clothing, as well as food and drinks to keep you fueled during this extended journey.
$2800 (12-13 hours) – Extend your swordfish trip and Increase your chances at catching a big swordfish, mahi, tuna, and other offshore pelagic fish.
---
Coastal Patch Reef & Lobster Trip. Recommended age 7-12.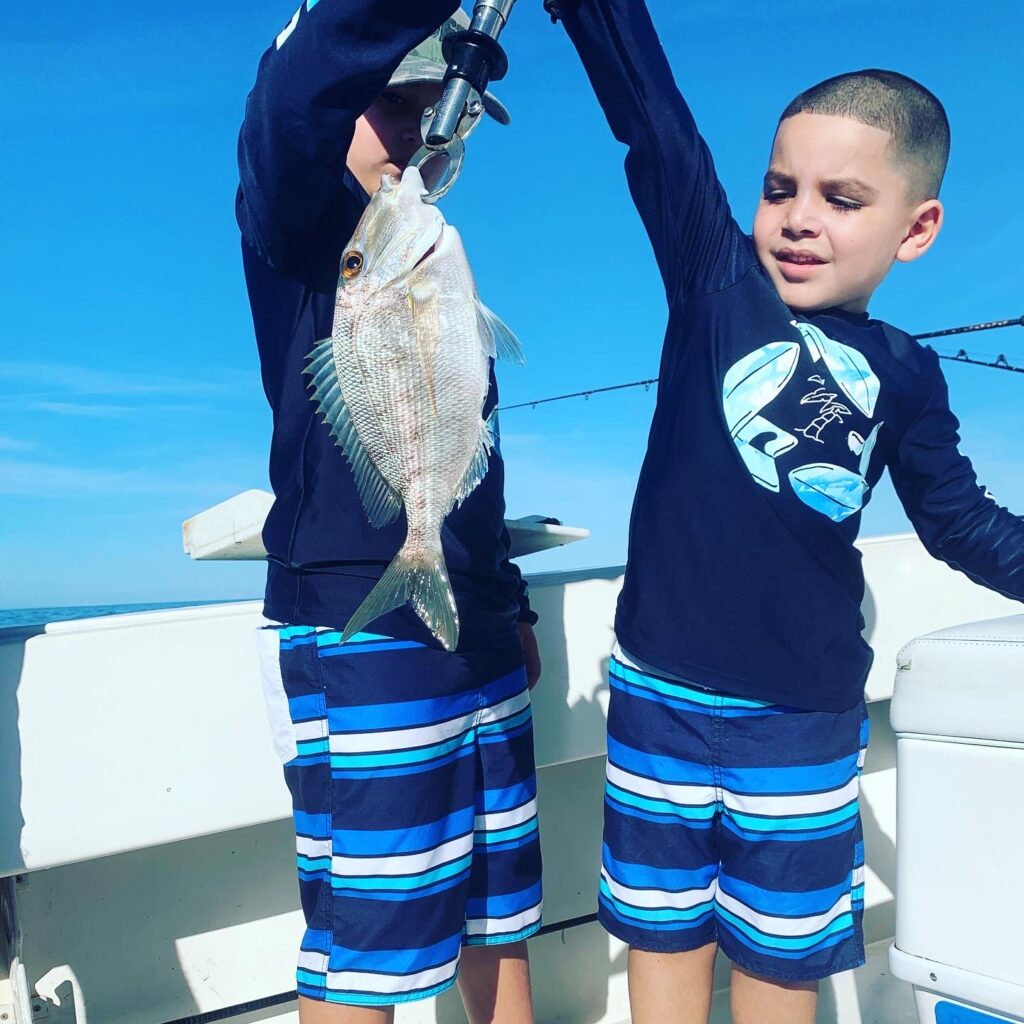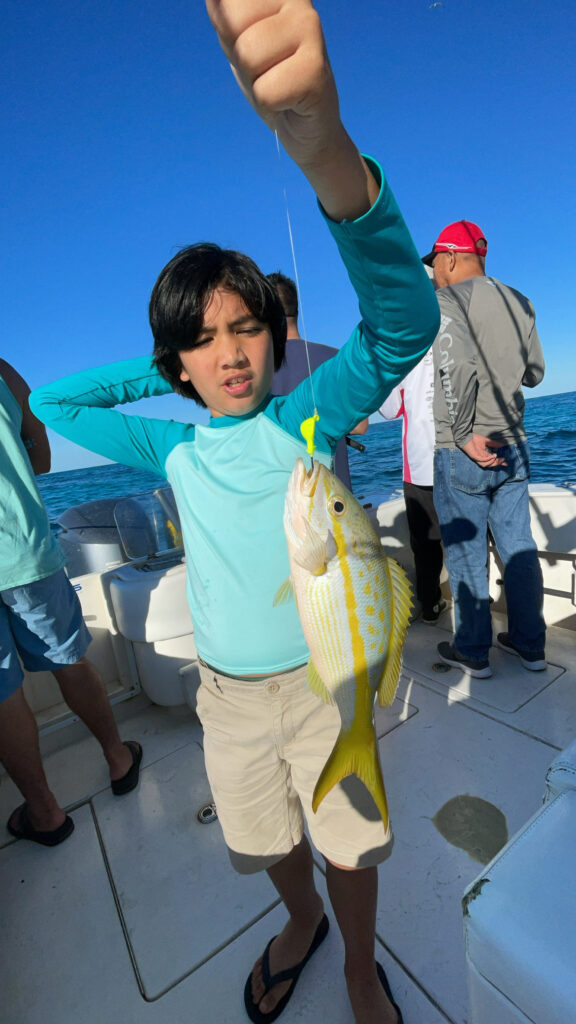 $1200 (4-5 hours) – Experience fishing the shallow patch reefs, anchored in 20 feet of water, just 1 mile offshore. On this trip, you'll have the opportunity to catch various species, including small jacks, porgy, Snapper, Grunt, Grouper, Barracuda, Shark, and more. This action-packed adventure is suitable for all ages, with a focus on kids and beginners. Most, if not all, of the fish caught are pan-sized and will be released unharmed, as they are often undersized.
---
*All Price includes : Captain Captain services, fuel, fishing licenses, fishing equipment/tackle, fresh dead bait, coolers with ice for your drinks & catch onboard, safety equipment-(Life jackets, E-Pirb, first-aide & trauma kit).
*Not included : Your Drinks, food, snacks, water bottles, sunblock. Alcoholic beverages welcomed.
*Optional : A 20% service charge for the mate/crew will be added prior to departure. You may choose to add more if you wish. Our crew consists of experts who are friendly and personable, and we maintain a smoke, alcohol, and drug-free workplace environment.
*Experienced clients have the option to forgo a mate/crew and handle all aspects of the fishing themselves, including rigging, baiting hooks, fish handling, casting, fish filleting, ice and rod loading.
---
*Booking your trip :
A reservation will be secured once a deposit has been received, and your trip has been confirmed.
To confirm all bookings, a 20% deposit is required.
Full payment is due before your departure.
*We accept payment in cash, Zelle, Cash App, or Venmo. Please note that when paying with a credit card, a 4% surcharge applies.
---
Cancelation Policy
*Deposits are refunded if cancellation is made prior to 2 weeks before the scheduled trip.
If the Captain determines that the weather conditions are unsafe, a full refund will be provided or the trip can be rescheduled for another day. Alternatively, the client may choose to fish inshore.
*Cancellations made by client for tournament, Bahama, or multi boat trips will not be eligible for refund of deposit.
*If a customer requests to return to the dock meeting location from a fishing trip for any reason and later wishes to return to the fishing spot, there will be a fuel fee of $150-$200, and no extra time will be added to the trip. Alternatively, you may choose to engage in inshore fishing, enjoy a swim at the sandbar, or cruise the bay waters at no additional charge for the remaining time of your trip.
We understand that unforeseen circumstances can arise, preventing you from making it to your reservation. Our management team will review each cancellation case on an individual basis and always strive to reschedule a trip rather than retaining your deposit.
---
We are also taxidermy agents. If you have an interest in having your trophy catch stuffed, please let us know in advance.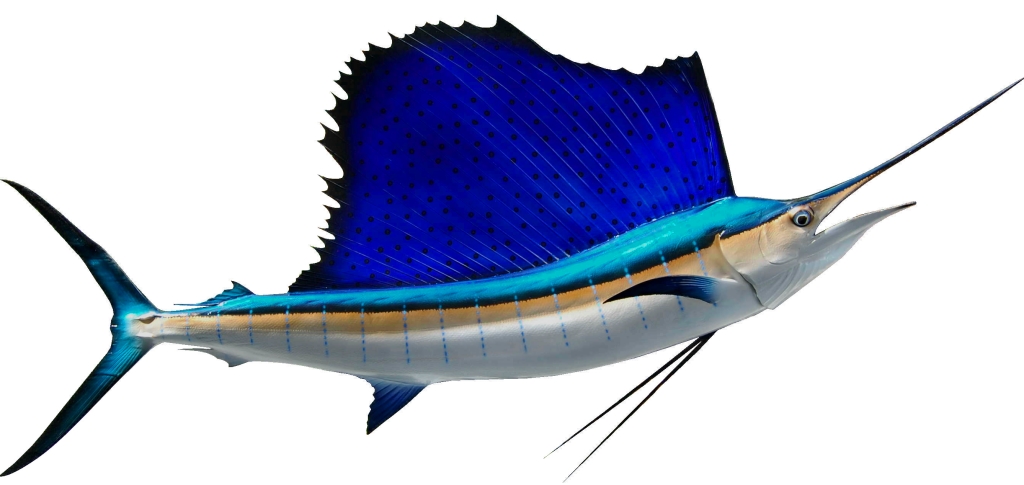 ---
Professional underwater dive photography is available upon request at a cost of $150.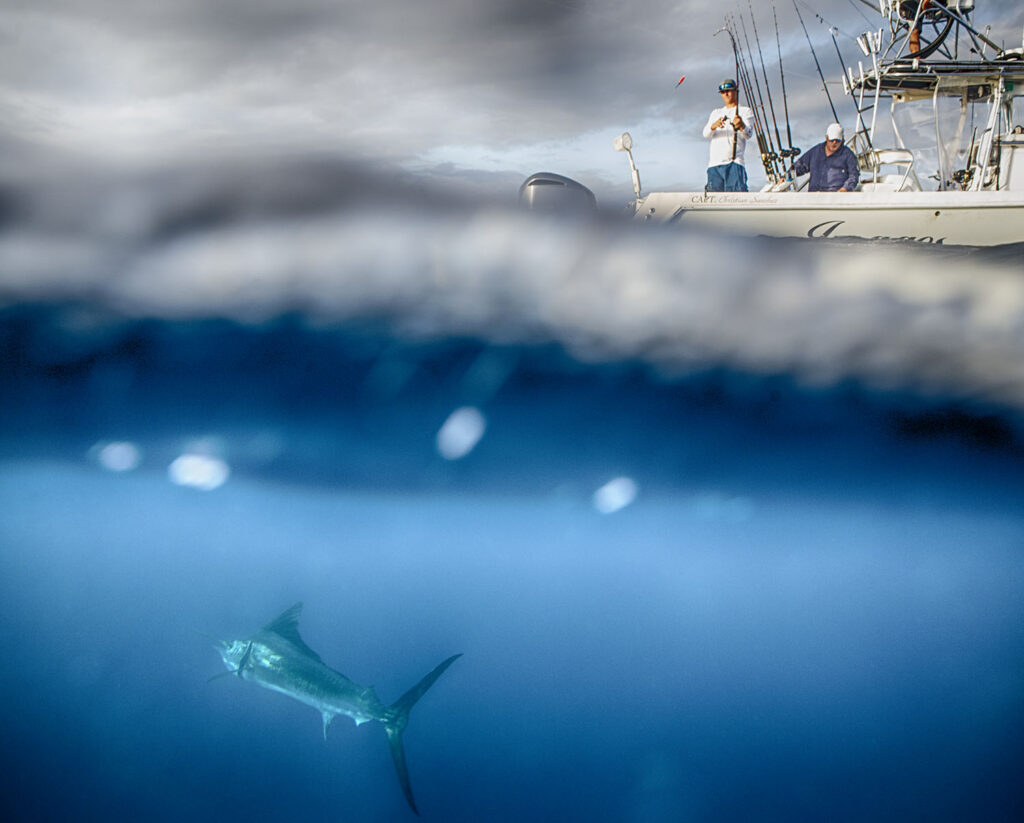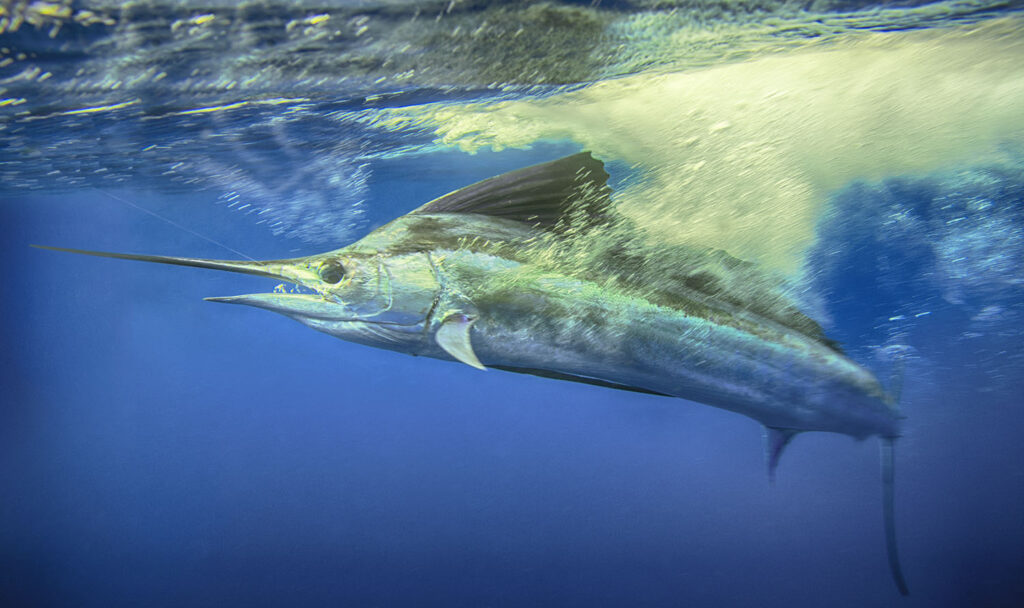 ---
For your convenience, we offer catering packages at a cost of $150. These packages include: 1 case of water, 1 platter of cut Deli Subs (serves 10), 1 pack of sodas, and chips.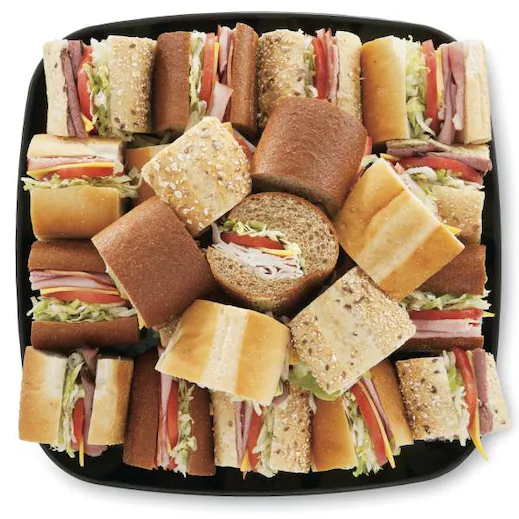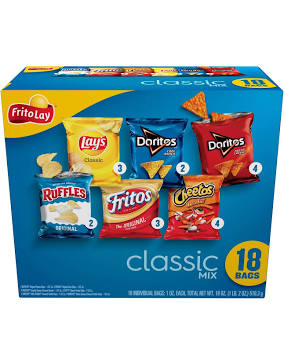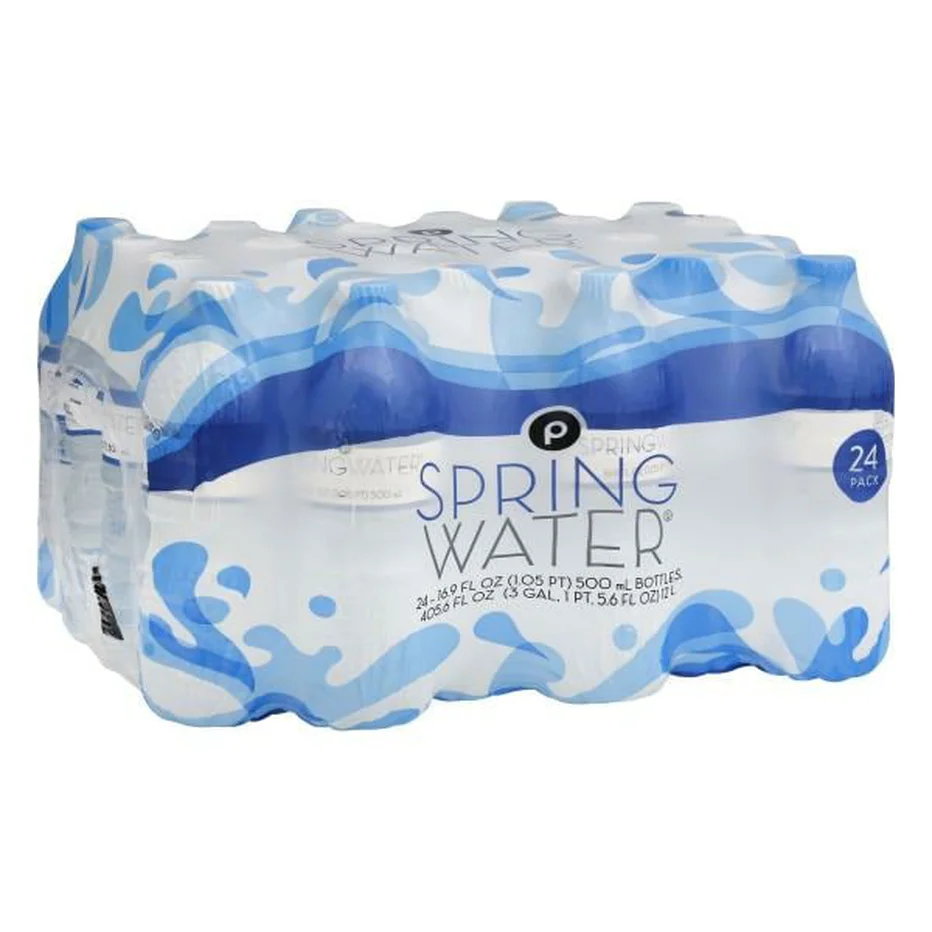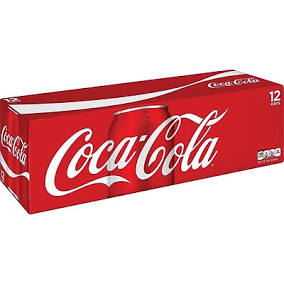 ---
Charter Pre-Check list
Rest and Hydration: Ensure you get a good night's rest before your trip and stay well-hydrated the day before departure.
Motion Sickness Medication: If you have concerns about seasickness, take a motion sickness pill the night before your trip and again an hour before departure. Note that the medication may not be effective if taken while on the boat.
Clothes to consider wearing:
Comfortable Shirt and Pants: Wear lightweight, breathable clothing that provides sun protection. Long-sleeved shirts and pants can help protect against the sun's rays.
Hat: A wide-brimmed hat or a cap with a visor can shield your face from the sun.
Sunscreen: Apply sunscreen generously to exposed skin, especially areas like the face, neck, arms, and legs.
Sunglasses: Wear polarized sunglasses to reduce glare from the water. They can also protect your eyes from harmful UV rays and injury.
Footwear: Choose non-slip, closed-toe shoes with good grip to prevent slipping on a wet deck.
Rain Jacket: Bring a lightweight, waterproof rain jacket in case of unexpected rain or spray.
Layers: Consider dressing in layers so you can adjust your clothing as the weather changes throughout the day.
Gloves: Fishing gloves can provide protection from the sun and help with handling fish.
Swimsuit: If you plan to swim
Extra Clothes: Pack a change of clothes in case you get wet or need a fresh outfit for the ride back.
Items to consider bringing:
Substantial Snacks: Opt for substantial snacks rather than chips. Consider items like granola bars, trail mix, fruit, sandwiches, or protein bars. These snacks provide sustained energy and keep you feeling satisfied during your fishing excursion. Having substantial snacks on board can help maintain your energy levels throughout the day, ensuring you're ready for a successful fishing experience.
Sandwiches in Sealed Containers: Pack sandwiches in sealed bags or containers. This ensures that your sandwiches stay fresh, protected, and ready to enjoy during your fishing adventure.
Bring Drinks and Water (No Glass Allowed)
We Provide Small Coolers with Ice Onboard: For safety reasons, only small soft coolers are allowed.
Dive Trip Essentials (June – September):
Snorkeling Mask
Fins
Towel
Change of Clothes
Food and Drinks: It's best to purchase your food and drinks the night before the trip. This ensures that you have everything you need on hand and reduces last-minute stress on the day of the excursion.
---
Boat Details
Why Chose a Luxury Cabin Cruiser?
A BOAT FOR EVERYONE
A fast Cabin Cruiser is a great option to any group of friends or family. Sometimes, even the most avid fisherman will have family members that do not share their enthusiasm. With the Cabin Cruiser 38LX, all needs can be satisfied while keeping the friends & family together while the fisherman is able to enjoy the fishability of the boat.
For those that choose to enjoy relaxing rather than catching the big one, the boat maintains an outdoor grill space as well as an outdoor dining space to keep everyone happy and well fed. When the weather turns a bit sour or the sun becomes too much, the cabin provides air-condition, kitchen, shower, bathroom, and ample entertainment with TV.
Boat specifications
Width : 10′ 8″
Draft : 24″
Fuel Capacity : 350 Gallon
Hull Design : Modified V
Length : 38′
Horsepower : 1050 HP (3 yamaha 350s V8)
Max speed 52 MPH
Cruising speed 40 MPH
Weight : 15,500 Lbs.
Amenities :
Bathroom
Air conditioned cabin and outside lounge area
Fresh water shower and sink
Outside Grill
Television
kitchen with microwave, refrigerator, and Oven.
Seats to sit from while fighting large fish.
GPS Simrad with autopilot
Simard Radar (to locate birds on Gamefish, Avoid weather, and traveling at night)
Fish finder Simard with High Power 1kw sonar Chirp Technology
Beds in cabin and outside lounge area
Dinning table in outside lounge area
Marlin Tower with 2 seats
Snorkeling Equipment agreed upon request
Live Bait Well
Multimedia System Receiver With Subwoofer's and bluetooth
Outrigger's 21′
Underwater Lights
Cooler Ice Box
Enclosure to keep you dry and comfortable
Rocket launcher rod station
Generator
Sunroof